Engel

Bee
UFO GAME 2003
Each Engel signing up for our Ufo game will receive a piece of fabric,
which is to use in the object to be finished. Pictures of the finished results are due
December 31, 2003

Little thank you gifts are going out to each participant.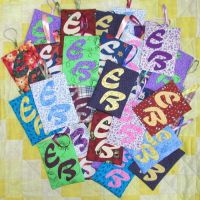 Prizes will be given by drawing or voting.
1st Prize, donated by Christine
2nd Prize, donated by Doerte
3rd Prize, donated by Rita
and of course there are a few surprises too.
There is the opportunity to enter more than one piece. More entries > more chances to win, but please don't set yourself to a too high goal. For every entry you'll get another piece of fabric.
As long as you need for your Ufo to finish a monthly report about your progress has to be given to the list, so we can cheer you up or give you a kick.
Back

Winners

Pictures