Engel

Bee
Anniversary Party - June 1, 2005
Block Lottery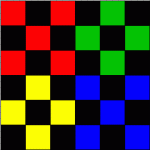 To qualify for the drawing you have to make 9 Patch blocks as described in our How To Do. The colors to use are solid black and any other solid color of your choice. Entries must be told until May 31, 2005. The blocks have to be sent to the lucky winner after the drawing, which will be held during our Anniversary Party.
1 SET = 2 BLOCKS = 1 CHANCE TO WIN THE POT
You can enter up to 5 sets to get more chances.
Entries
| | | |
| --- | --- | --- |
| 5 sets | Barbie | |
| 1 set | Beth | from ??? |
| 3 sets | Beverly Ann | from ??? |
| 5 sets | Bonnie | from ??? |
| 1 set | Christa | |
| 3 sets | Christine | |
| 2 sets | Claudia | from Tina |
| 1 set | Claudia | from Linda |
| 3 sets | Ellen | |
| 2 sets | Gaye | from Christine |
| 3 sets | Helen | |
| 2 sets | Jaki | |
| 2 sets | Jettie | from Rita |
| 2 sets | Jettie | from Barbie |
| 2 sets | Judy M | |
| 1 set | Kate | |
| 4 sets | Kathy | |
| 3 sets | Kjersti | |
| 1 set | Kjersti | from ??? |
| 2 sets | Linda | |
| 1 set | Linda | from ??? |
| 1 set | Liz B | |
| 3 sets | Marianne | |
| 4 sets | Mimi | |
| 3 sets | Oddbjorg | |
| 3 sets | Pam | |
| 3 sets | Rita | |
| 3 sets | Saskia | |
| 1 set | Terri | from ??? |
| 2 sets | Tina | |
| | | |
| 72 sets | Total | |