Engel

Bee
3rd Anniversary Party - June 3, 2007
Mystery Quilt
Step 5

Do you still have your yarn, needle and maybe buttons? Now it's time to finish our little Mystery quilt. Instead of quilting the crossed center we are going to tie the quilt.

Try to get your yarn through the eye of your needle ;-)). Stitch through the meeting point of your ribbons from the topside through all layers, coming back to the top about 1/8" beside. Make knots and cut the tails back to about 1 inch. Continue tying or alternate with sewing on buttons. I used buttons (@) for the meeting points and tied (+) the other parts.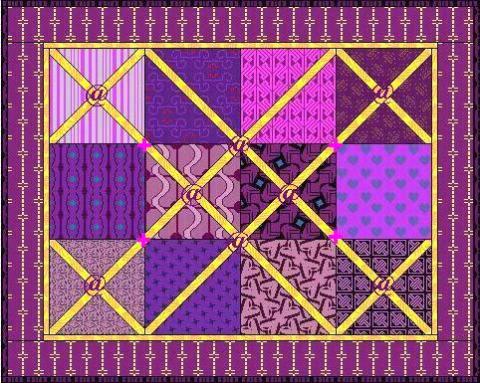 Finally you are ready to look for a nice place to hang your quilt and feed it with postcards, cards, notes, pins and more.
Hope you enjoyed doing the mystery with me.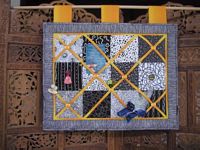 Catch a star to go back